The Second Largest Church After Hagia Sophia:
The Hagia Irene located in the outer courtyard of Topkapı Palace is the oldest church of the Eastern Roman Empire (Byzantine). It was also the second largest church in İstanbul after Hagia Sophia. Hagia Irene, originally means "sacred peace" (Hagia Eirene), has a special meaning as the first place where Turkish museology was born.
Hagia Irene, a typical Byzantine structure with its materials and architecture, was built on top of an older temple, out of wood in 330. During the reign of Emperor Justinianus, the Nika Revolt in 532 led to the devastation of both Hagia Sophia and the Hagia Irene, and two of them were rebuilt together.
Three-Nave Basilica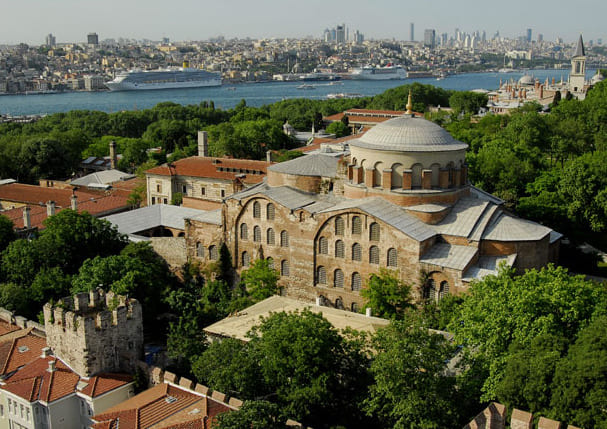 Consisting of three sections, naos narthex and atrium, Hagia Eirene is the only surviving example of a Byzantine period church today with a standing atrium. Built as a basilica with three naves during the reign of Konstantinos the Great (306–337), it has been repaired by Leo III (717–741) and his son Constantine Copronymus (741–775) following the damages caused by the great earthquake of 740. Its upper structure was completely renovated and the building gained its appearance as known today as a domed church with basilical plan.
The decoration of the structure, might have been richly decorated with figurative ornaments during the reign of Justinianus (527–565) but, it has been completely changed during the repairs of Leo III and Constantine Copronymus who both are emperors of the Iconoclastic era. The cross depiction that can be seen today on its half dome has been made during that time.
Usage in the Ottoman Empire Era
After the fall of Constantinople since the church was not converted into a mosque it was used as loot and gun depot (Harbiye Warehouse) for a long time. Few changes were made to the interior and exterior and it was used as the Cebehane (weapons depot). Two restored marble inscription tablets adorn the entry portico that was added by Sultan Ahmet III. One of these was restored in 1726 by Darü'l-Esliha and the weapons within arranged, so that the church had clearly been turned into a weapons museum. The other inscription, dated 1744 during the reign of Sultan Mahmud I, indicates it was turned into the weapons depot again after its restoration. In the 19th Century, the weapons depot was named the "Harbiye Ambarı" (war academy depot). In 1846, on the initiative of Tophane Müşiri (Artillery Commander in Chief) Fethi Ahmed Pasha, the contents were organized into two sections, the building officially named the Museum of Early Munitions and Artifacts and in 1869 it became the country's first official museum under the name of Müze-i Hümayun (Imperial Museum). Later it was used again as a depot.
The weapons collection was reorganized and it served as the first Military Museum between 1908 and 1940.
See Also
---
---